Say Goodbye To Dry Roast Beef With This Rice Bowl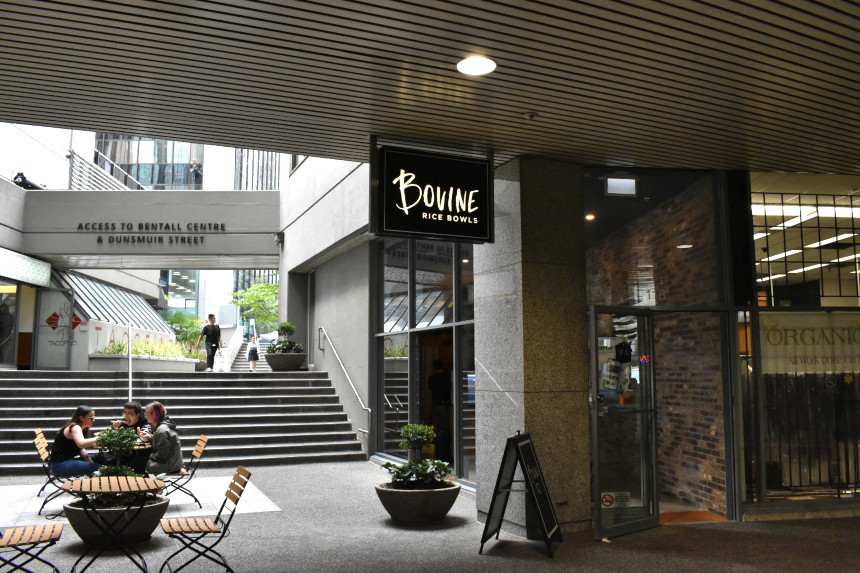 Hidden on the ground floor of a high-rise building in downtown Vancouver is a small eatery called Bovine Rice Bowls. Open since June 2018, they serve amazing Asian rice bowls for weekday lunch. Bovine's classic go-to menu item is their signature Roast Beef Bowl.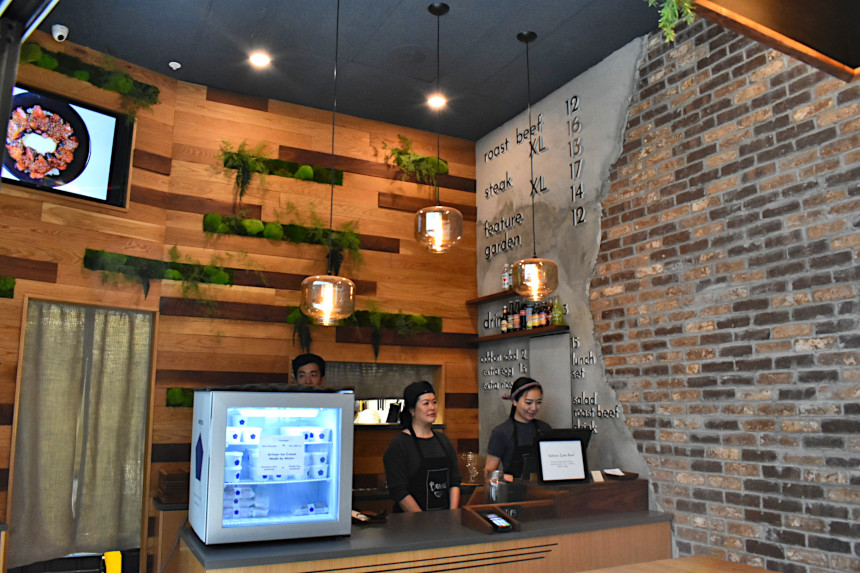 With only a small street sign on the sidewalk along West Pender, Bovine Rice Bowls is hard to find at first. Located among a few other cafés and small eateries, the shop itself is small but beautiful inside with its exposed brick and wood. If you're staying in for lunch, there are few seats, including a small covered patio area.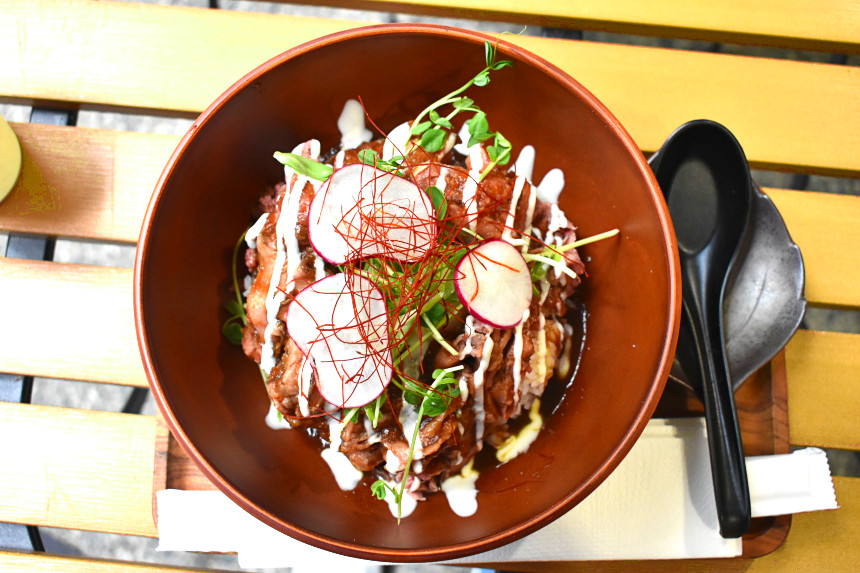 Bovine is known for their Roast Beef Bowl so I knew had to order that. After ordering a regular size bowl, I waited a few minutes as they prepared my order in the back kitchen. Though I opted for the regular size over the XL, the Roast Beef Bowl was a generous portion size. In the clay-coloured bowl, I could immediately see thin slices of medium-rare roast beef coated in a brown onion sauce. On top, there were fresh pea shoots, slices of radish, thin strings of a red vegetable, and a drizzle of white sauce. Hidden underneath all these ingredients was the rice. And underneath the pea shoots, I discovered an egg – a 64-degree egg to be exact. Like a soft-to-medium poached egg, this egg had a vivid yellow yolk.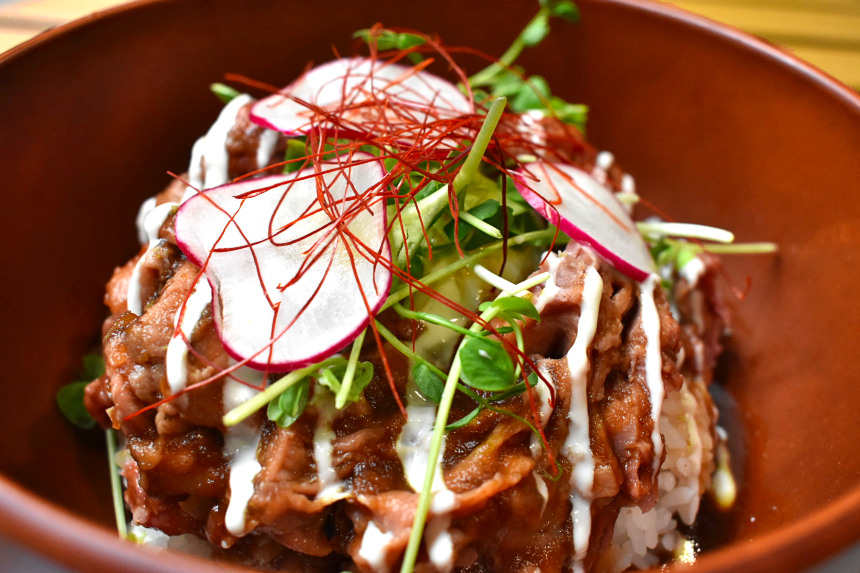 The Roast Beef Bowl felt so luxurious to eat. The plump, white sticky rice was a perfect blanket for the savoury, melt-in-your-mouth roast beef.
The sweet yet umami onion sauce shone through, while a yogurt-based white sauce contrasted this with tang and creaminess. The egg further offered a creamy mouthfeel. Finally, the pea shoots and radish brought crunch to contrast with the rest of the dish.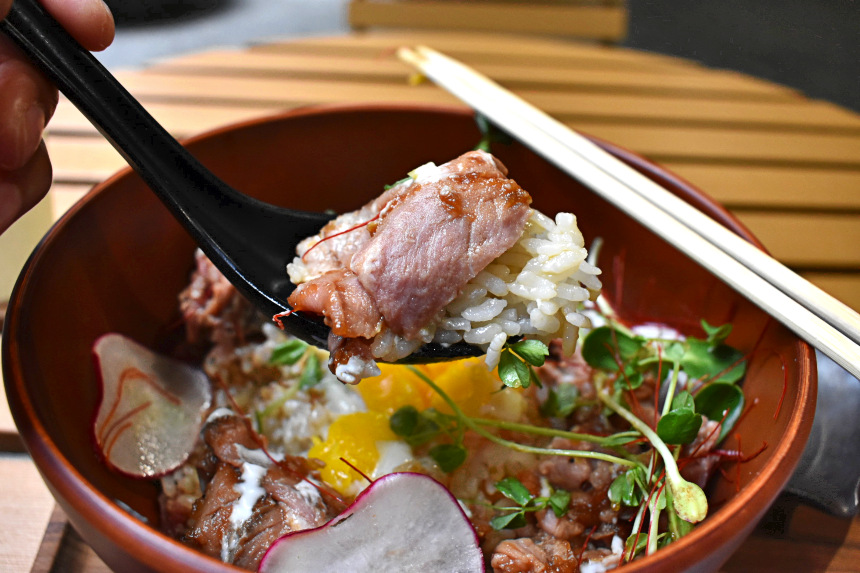 I absolutely loved the Roast Beef Bowl from Bovine, and I'm sad they're only open for lunch on weekdays. It might be hard to try this place if you don't work downtown, but if you ever get the chance, I highly recommend it!
Restaurant: Bovine Rice Bowls
Featured Dish Name: Roast Beef Bowl
Dish Type: Rice
Available For: Lunch
Dish Price: $13.50
Flavour Profile: Savoury
Served: Hot
Portion Size: Large