A Triple Twist on the Classic Tomato Bruschetta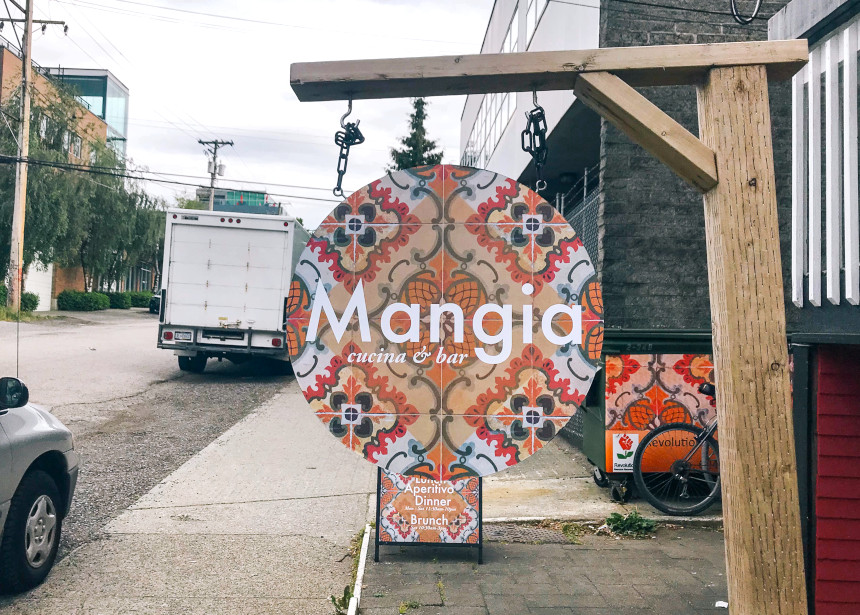 Italian food will always be one of my favourites, but sometimes having a rich pasta or cheesy piece pizza is a little too heavy. When I feel this way, I opt for lighter dishes that are bursting with flavour, like the Bruschetta Trio from Mangia Cucina & Bar.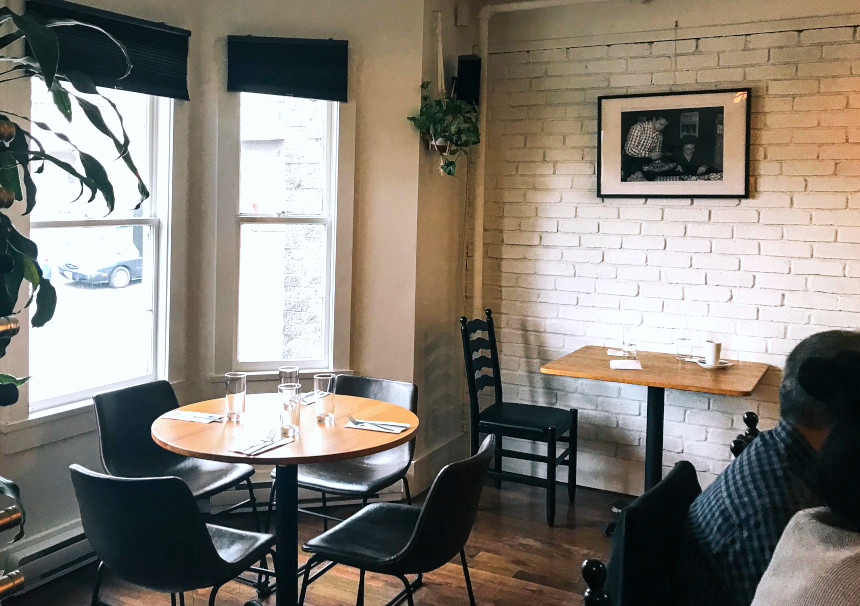 Located in Mount Pleasant, Mangia Cucina & Bar sits in a beautiful red heritage house that's been converted into a restaurant. Opened by Sicilian-born chef and restaurateur Alessandro Riccobono, Mangia Cucina offers a wide selection of regional Italian wines and authentic Italian cuisine in a cozy space. White brick walls, small wooden tables, and warm lighting make this place the perfect spot for a romantic date.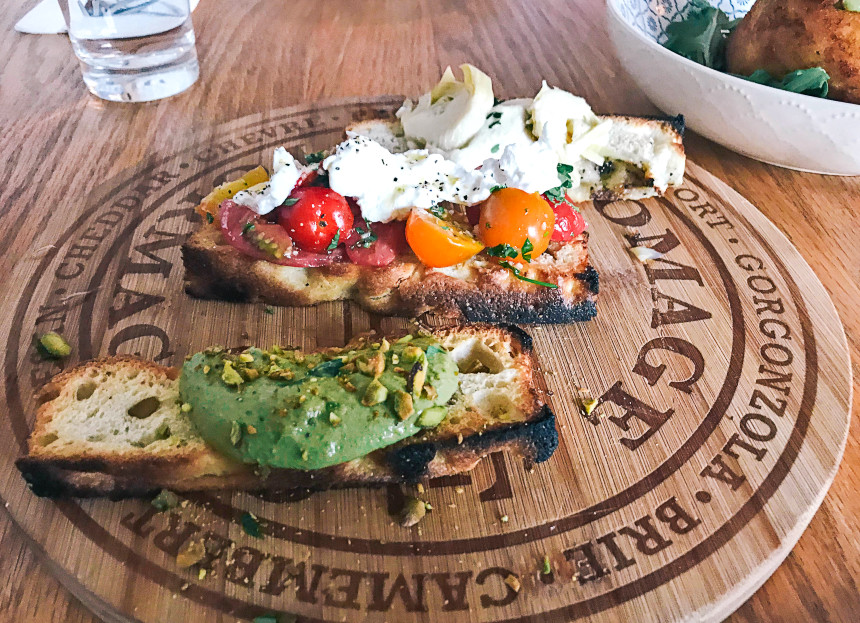 For a light lunch or appetizer to share, Mangia's Bruschetta Trio is a must-try. Made with three large, lightly toasted focaccia crostini, each bruschetta features a different colourful topping. These include creamy burrata and tomato, artichoke puree, and pistachio pesto. Each bite of crostini is slightly salty with a nice crunch, balancing the texture nicely with each of the toppings.
The burrata and tomato bruschetta is topped with creamy burrata cheese, cherry tomatoes, and a drizzle of olive oil.
The cherry tomatoes are fresh, garlicky, and salty. Every time you take a bite, the tang from the tomatoes is matched with the creaminess of the burrata.
Each bite is rich and popping with flavour.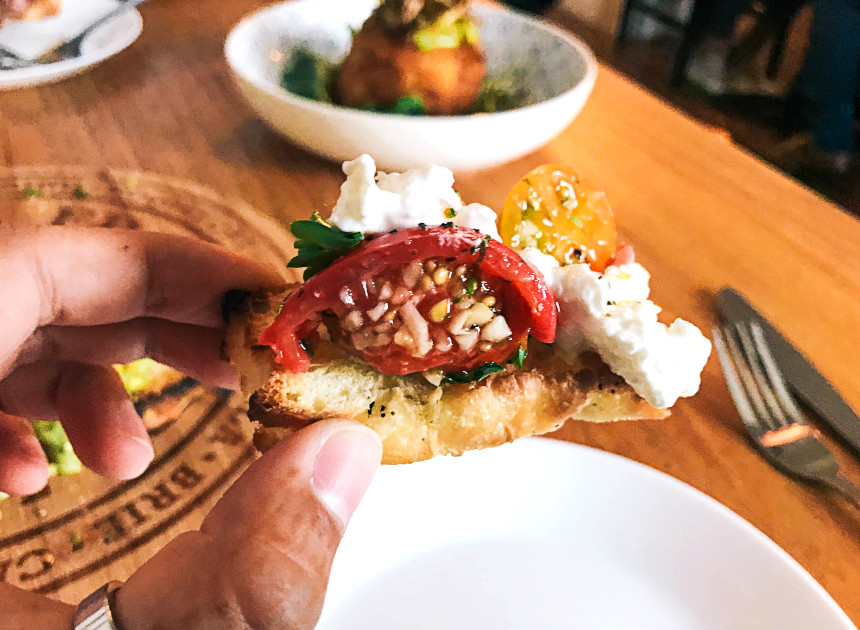 Next, the bruschetta with artichoke puree. The puree is smooth and creamy, with a flavour that's much more subtle than the burrata and tomato. Pieces of fresh artichoke on top give a nice meaty texture to the bruschetta.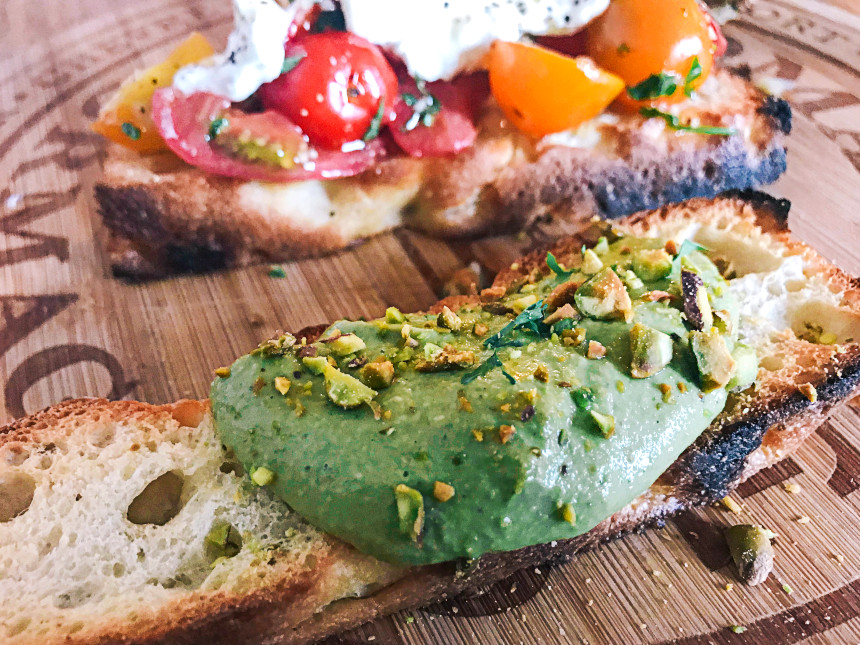 Last is my favourite: the pistachio pesto. The pesto is nutty, velvety, and slightly sweet from the pistachios, but not rich in any way. Sprinkled on top are pieces of toasted pistachios, adding a nice salty crunch to the otherwise creamy topping.
Paired with a glass of Italian red wine, the Bruschetta Trio from Mangia Cucina & Bar is exactly what I'm looking for when I'm craving light, fresh Italian food.
Restaurant: Mangia Cucina & Bar
Featured Dish Name: Bruschetta Trio
Dish Type: Antipasti/Tapas/Snack
Available For: All Day
Dish Price: $10.00
Flavour Profile: Savoury
Served: Cold
Portion Size: For Share