The Roasted Pork Belly Sandwich that Refuels You After the Grind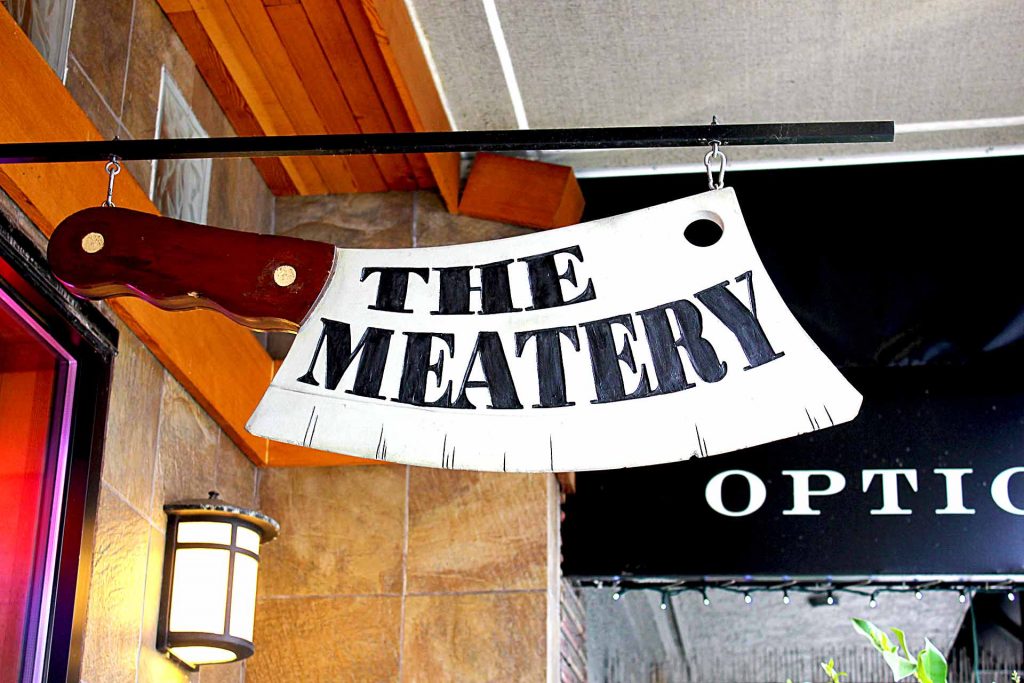 Most of us end up as hungry, drained creatures descending the Grouse Grind, and the answer to a satisfying recharge can be as simple and delicious as a sandwich. A neighbourly 10-minute drive from the Grind, you'll find a local reward you didn't expect coming downhill – The Meatery.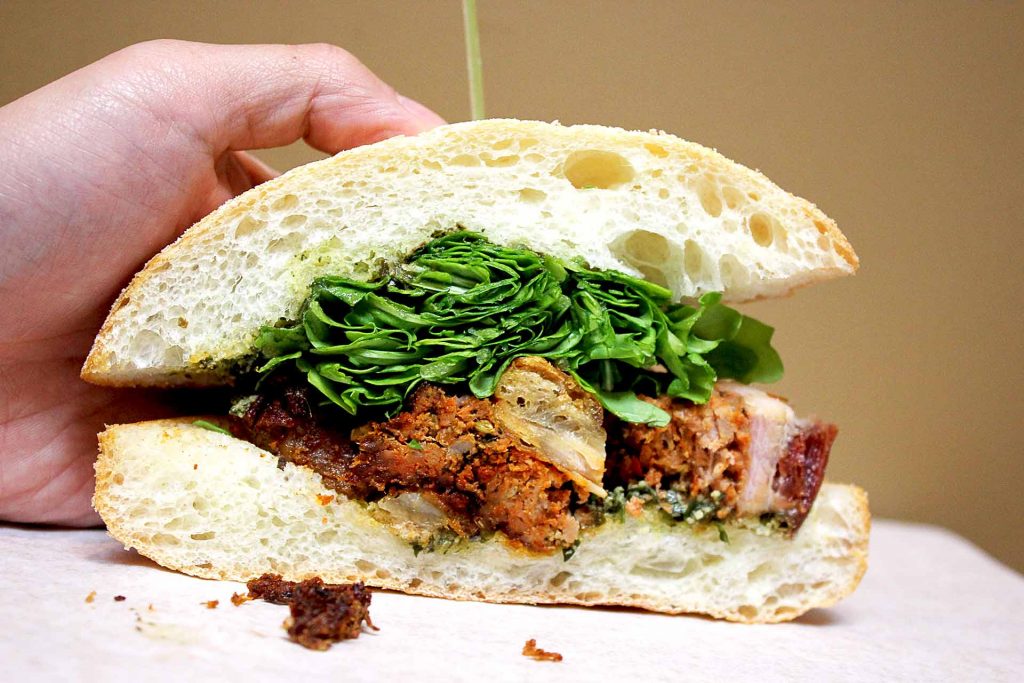 At The Meatery, a sandwich shop within the Windsor Meat Co. Artisan Butchery, the atmosphere is inviting and the ingredients are fresh. The shop is twofold. One side caters to your meaty/butchery needs and the other side serves mighty sandwiches made from the same high quality meat provided in the butcher shop. They only offer free-range, non-medicated local meat, and the menu is selectively small. So, go for what you're craving. But trust me, you won't be able to resist the Roasted Pork Belly Sandwich.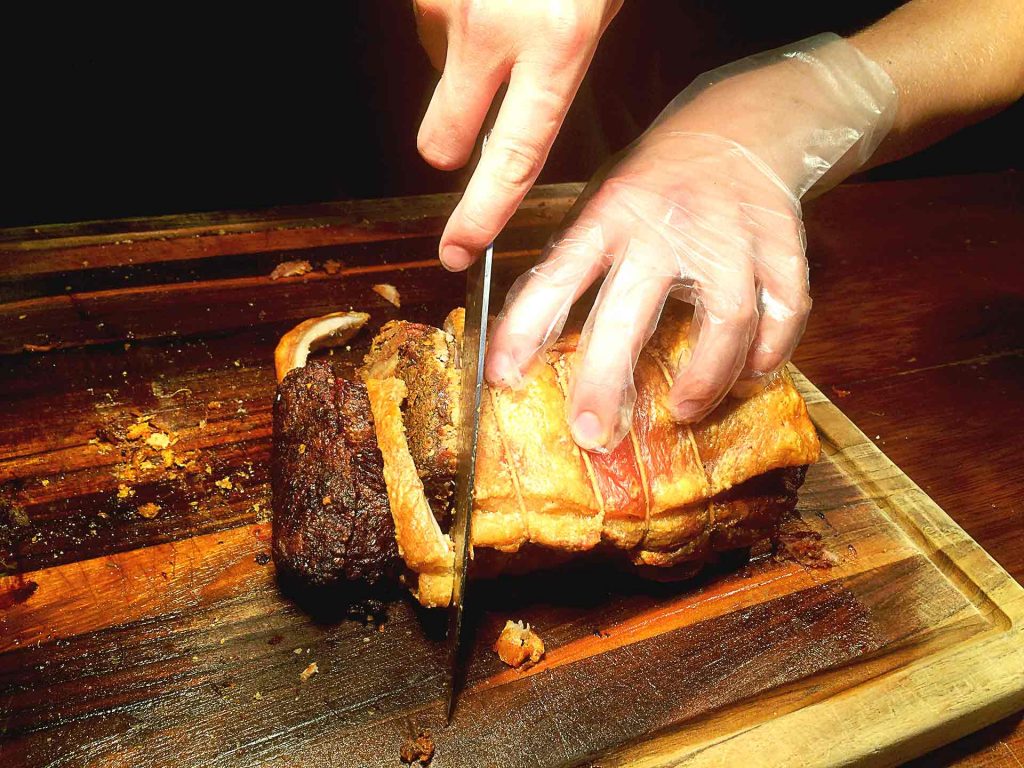 A slab of delectable slow roasted pork belly wrapped in crackling glows above the chopping board. The warm lighting behind the counter further drives the anticipation as the gentleman carves golden brown slices to complete the Roasted Pork Belly Sandwich. The herbaceous aroma stays close to the counter. Good thing the sneeze guard prevents patrons from being pulled in too close. He transfers the house-made spicy Italian sausage and bound pork belly with crackling onto the 100% non-GMO and EVO white ciabatta (whole wheat is also available). Then, he finishes the sandwich with a bed of vibrant arugula and spread of pesto before sliding the creation onto a slim wooden board.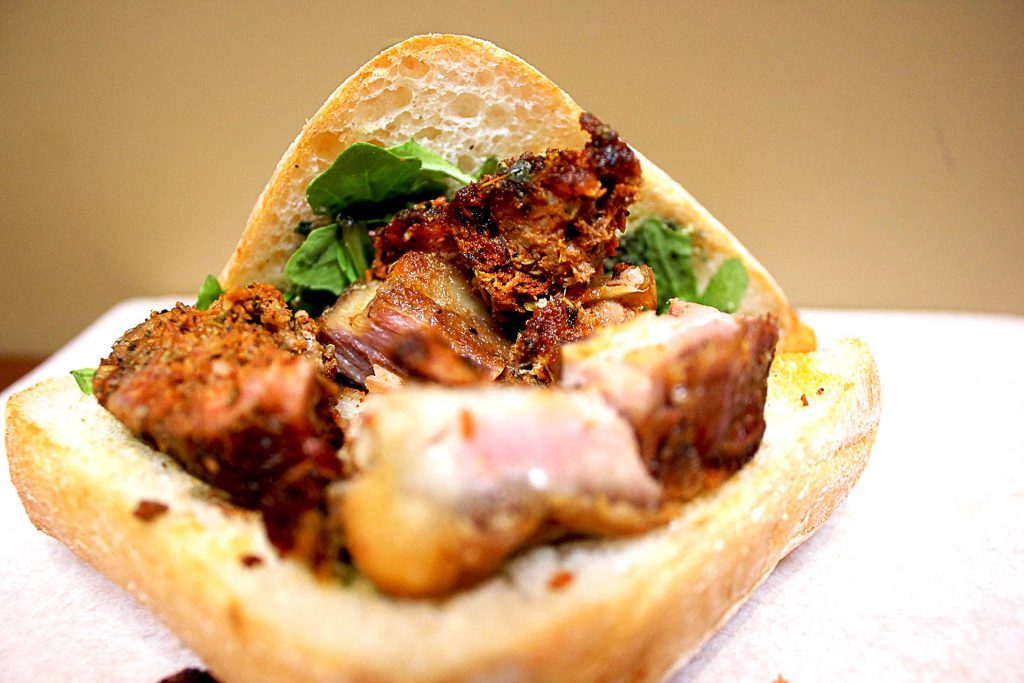 Upon first bite, you'll fall into a bed of soft ciabatta crust, followed by chewiness to soak up your excessive salivation.
Then, let the nature of your hunger complete its course as the crispy crackling collides into the juicy fibres of the roasted pork belly.
Sink further into the profusely seasoned soft Italian sausage, and savour its piquant nature as it lights up your taste buds. The pesto stirs more savoury notes as you play with the flavour in your mouth. The entangled arugula twists into everything with its bitter notes. This eclectic but harmonious combination is the epitome of food ecstasy.
Complete your meal with a soup or salad of the day. The Meatery's kitchen creates their own stock & bone broth, and they're always trying out something different. The shop also serves beer, wine, and soda to satisfy the thirsty. And don't forget their infamous sausage rolls!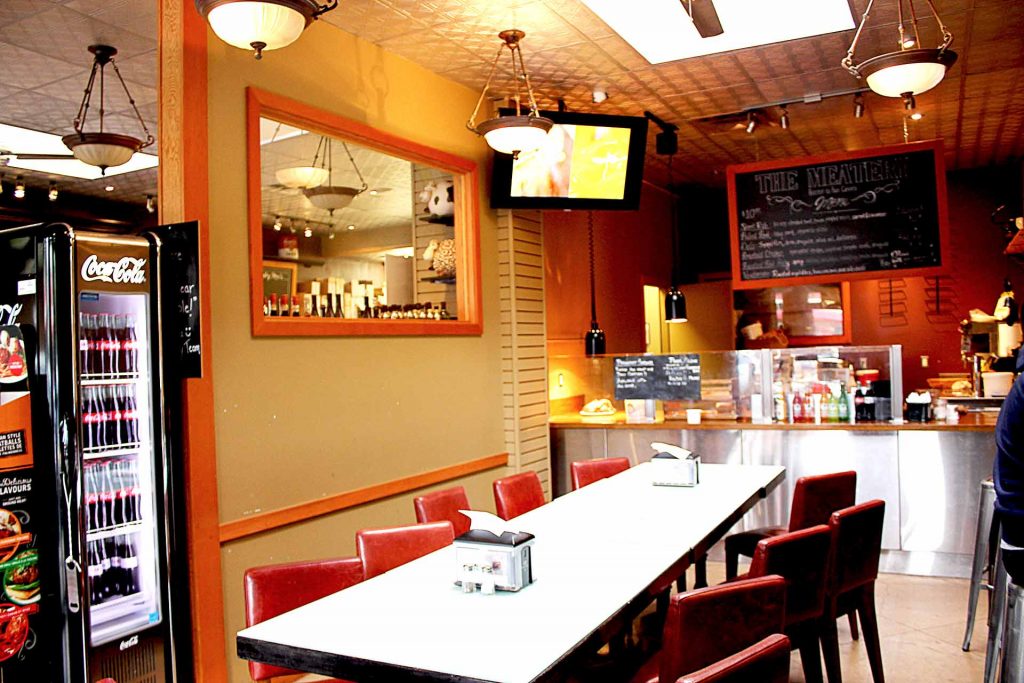 At The Meatery, there's a communal table in the middle for a group lunch or quick supper. A slim counter with stools lines one of the walls for extra seating. And though it's small and cozy, The Meatery is ideal for groups of any energy level. The Roasted Pork Belly Sandwich is an especially easy and satisfying meal, particularly after sweat and exhaustion from the Grind.
Restaurant: The Meatery
Featured Dish Name: Roasted Pork Belly Sandwich
Dish Type: Burger/Sandwich/Wrap
Available For: All Day
Dish Price: $11.00
Flavour Profile: Savoury
Served: Hot
Portion Size: Large